Travel
Travel with us - We work while you enjoy!
Let Aquatic World take you on a guided trip
The Aquatic World Travel Department
We specialize in FUN by bringing you, your family, and friends on exciting, guided dive vacations around the world. Our goal is to offer about a half-dozen group trips each year to some of the best diving spots in the world, which includes the exotic Pacific destinations such as Fiji, Indonesia and the Philippines to Caribbean destinations including Bonaire, Little Cayman, Roatan and the Bahamas. We also provide local dive trips within the US. These can be day, weekend or week long trips to locations such as Key West, Canada, Dutch Springs in Pennsylvania and many others.. We follow each trip with a detailed questionnaire we use to fine tune so we continue to improve and deliver for our travel clientele.
International dive TRAVEL
Our group international travel services are handled through our partnership with Shared Adventure Tours. Experienced dive travel leaders, the staff of Shared Adventure Tours work hard to provide quality travel services to many exciting International Dive locations. If you're looking for a trip to paradise, contact Shared Adventure Tours Travel Director - Sharon Corcoran at sharon.divetravel@gmail.com. Set up a time to come in and talk with her so she can help you select the perfect group trip.
Personalized service provided through our International Travel partners Shared Adventure Tours
DOMESTIC DIVE TRAVEL
Looking to make the trip to a wonderful dive location in America or just over the boarder to Canada. Come join the dive fun with one of our trips to Key Largo or South Carolina. Maybe over to the Cape or jet out to the West Coast - "Dude". We are always looking for new and exciting dive destinations to spirit divers off for a week of enjoying American Dive Travel.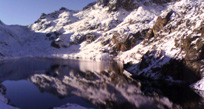 Altitude Diving in Colorado - Ever thought about it??
Click here for our Domestic Travel webpage
LOCAL DIVING TRIPS
Our PADI PRO Dive Team lead some fantastic day and weekend trips to the local dive sites available to Upstate New York. New to the area or just new to diving? Maybe you have that "Been there, dived that" syndrome going on. Try a Local dive destination closer to home with Aquatic World local PRO lead adventures.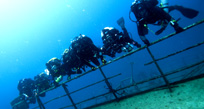 Diving on the St. Lawrence River from the American or Canadian side