Shared Adventure Tours - Owners and Trip Leaders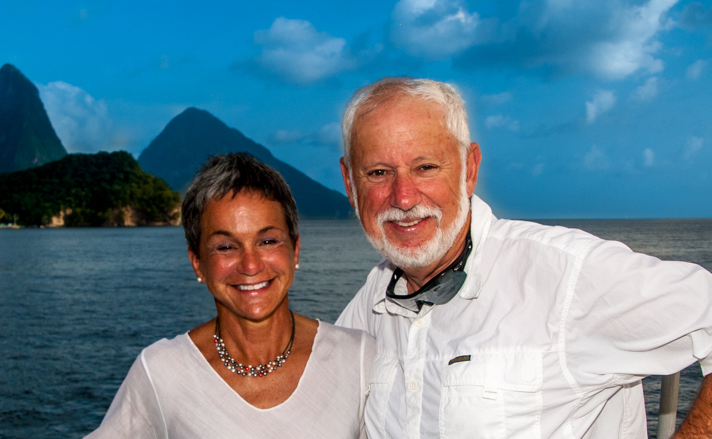 Tim and Sharon corcoran
We discovered scuba diving on our 25th Anniversary trip to Hawaii in 1998. We could not wait to get back home and sign up for classes. Our next trip was to Bonaire to complete our Open Water Certification. This is where we began making plans for our future. Tim became involved in the daily operations of Aquatic World and began working towar his certification as a PADI Master Scuba Diver Trainer. We both have a passion for travel and we began exploring all the options for dive travel and began building a group travel program at Aquatic World. In December of 2017 we launched our own "Shared Adventure Tours" and establish our partnership with Aquatic World Dive Travel.
Tim retired from National Grid in 2007 after 34 years of service. His last position was Director of Data Center Services. Tim was the General Manager of Aquatic World from 2008 until 2016. Sharon held managerial positions with Syracuse Supply Company, Denny's Restaurant, and Cracker Barrel Restaurant and currently was the Director of Dive Travel at Aquatic World until December of 2017. Our daughter, Carrie, and her wife Rachel are Aquatic World Dive Masters and Trip Leaders. Diving and travel are family passions we enjoy together.
We like to think the world is our playground and we love to bring others to experience the magic we have found each place has to offer below and above the water. We have a great group of trip leaders that consistently deliver trips that earn great ratings from our travelers. We feel like we are so lucky to have diving, travel, great trip leaders, and the world at our finger tips.
Destination
Start Date
Price
St. Lucia
Saturday 09 Nov 2019

$0.00

St. Lucia - (St. Lucia 11/9/2019)


Start Date:

Saturday 09 Nov 2019

End Date:

Saturday 16 Nov 2019

Places Available:

20

Our Price:

$0.00

Bonaire
Saturday 01 Feb 2020

$0.00

Bonaire - (Bonaire 2/1/2020)


Start Date:

Saturday 01 Feb 2020

End Date:

Saturday 08 Feb 2020

Places Available:

22

Our Price:

$0.00

Fiji
Tuesday 14 Apr 2020

$0.00

Fiji - (Fiji 4/14/2020)


Start Date:

Tuesday 14 Apr 2020

End Date:

Monday 27 Apr 2020

Places Available:

18

Our Price:

$0.00